Insitu Installation
An insitu installation is where the cable and/or conduit is damaged and a reliable service cannot be provided using the existing cable. The damage occurs for a number of reasons including: vegetation growing; water; garden implements and vermin. When the service is inactive, and an activation of the line is attempted by technicians but is not possible, a new lead-in is required.
A knock-down-rebuild is entitled to a new lead-in, regardless of the condition of the existing lead-in.
Many insitu lead-ins are under established gardens/paving etc. These are difficult to re-install - but this is a specialty area Dig Dug can quote and re-establish.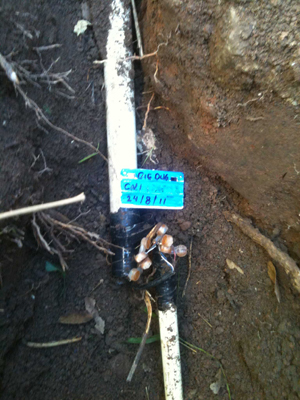 Insitu Damaged Underground Installation