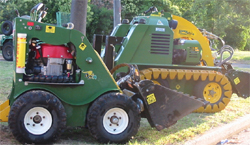 Big Machines

just 1050mm wide
reduced ground pressure - minimal damage to lawns etc
works in mud, sand, clay - even just after rain
increased performance in digging capacity
increased machine stability - climbs/descends nearly anything!
increased ground clearance - climbs over anything!

Kanga Kid

just 820mm wide - fits in and under anything!
16HP motor - extremely powerful
No other company can match the tight access ability of these machines!