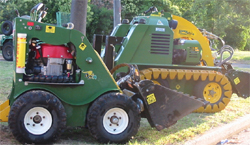 G'day - We're both pleased to meet you!
Whether you need the power of the 25hp Diesel machine on tracks, or the smaller access 16hp Kanga Kid,
Either one of the four machines in Dig Dug's garage can help
Now with rear hydraulic legs - increasing post-hole digging power - by 2.5 times!
See you on site soon!
There is virtually NO backyard we can't fit into - try me!